Save $5 Instantly at the register on Meat or Seafood wyb 5 participating items in a single transaction.
This is a great sale to save on meat or fish.
The items in the ad:
Kraft Single Ind Wrapped Cheese Slices 10.7-12 oz $2.50
Kraft Fresh Take $2.50
IP
Link
Kraft Velveeta Cheesy Skillets or Cassaroles $2.50
$1/2 Velveeta Cheesy Potatoes (SS 03/24)
$0.50/1 Velveeta Cheesy Potatoes (SS 03/24 R)
Kraft A1 Steak Sauce All Var $2.99
$1 off beef wyb A1 Tearpads
Kraft A1 Dry Rub $2.99
Bull's Eye BBQ Sauce 3/$5 ($1.67)
With this sale you can do more than (1) ISO in a transaction BUT remember the $5 off will "attach" itself to the lowest priced meat items in order. SO DO NOT put like a $3.99 meat item in your order - because that is what the $5 ISO will attach to and you will only get the $3.99 off not the $5.
You can also go to the butcher or Seafood counters and have them cut or wrap up small packs of meat or seafood just a little over $5 and it will work with that. I like getting bags of shrimp from the seafood counter with this sale. Also works great if you can find a B1G1 Meat item as one of the meats will be free and the other would get $5 off.
This is a Photo of an Ad that was standing in a Martin's the Very first time this promo ran - LAST YEAR. Showing there were more products than what was in the ad itself - so please be on the look out for signs under products at your stores and report back.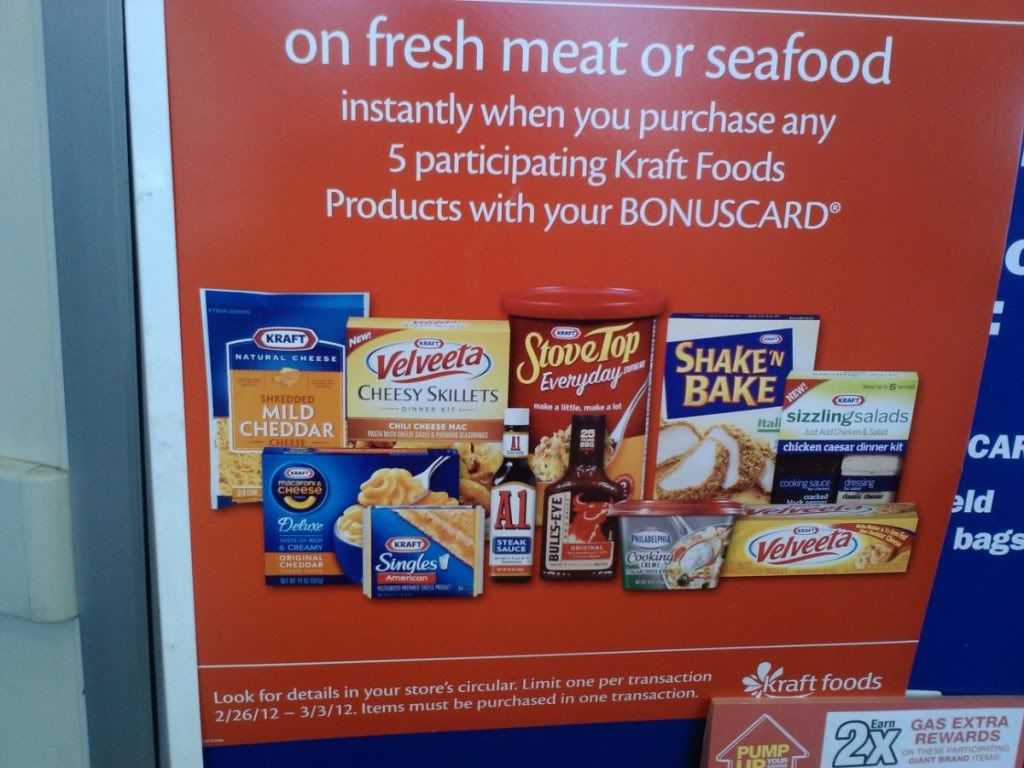 Here are some Meat Coupons you might want to have ready
$1.00 off LLOYD'S Barbeque product
Shady Brook Ground Turkey 1.3 lb packs in the ad are priced $3.99
Oscar Mayer Beef or Prem Meat Weiners are B1G1 (no price listed)
Giant Fresh Boneless, Skinless Chicken Breasts or Thighs $1.99/lb (val pack)
TEARPAD - $2 off chicken or Beef wyb Campbell's Skillet Sauce
$1/1 Campbell's Skillet Sauces, exp. 6/30/13 (SS 04/14/13)
Depending upon the price of the bacon this might be an OK deal
Buy any 2 Oscar Mayer Bacon OR Maxwell House Coffee