We have Seen the Save $5 Instantly on Meat, Seafood and Poultry Deal many times over the past yr or so and each time it has included more items than what is in the ad. Here is a photo of a OLD poster from When the Deal Came out one of the First Times and you can see it included alot of Kraft Items as I suspect it will this time - Starting 7-21-13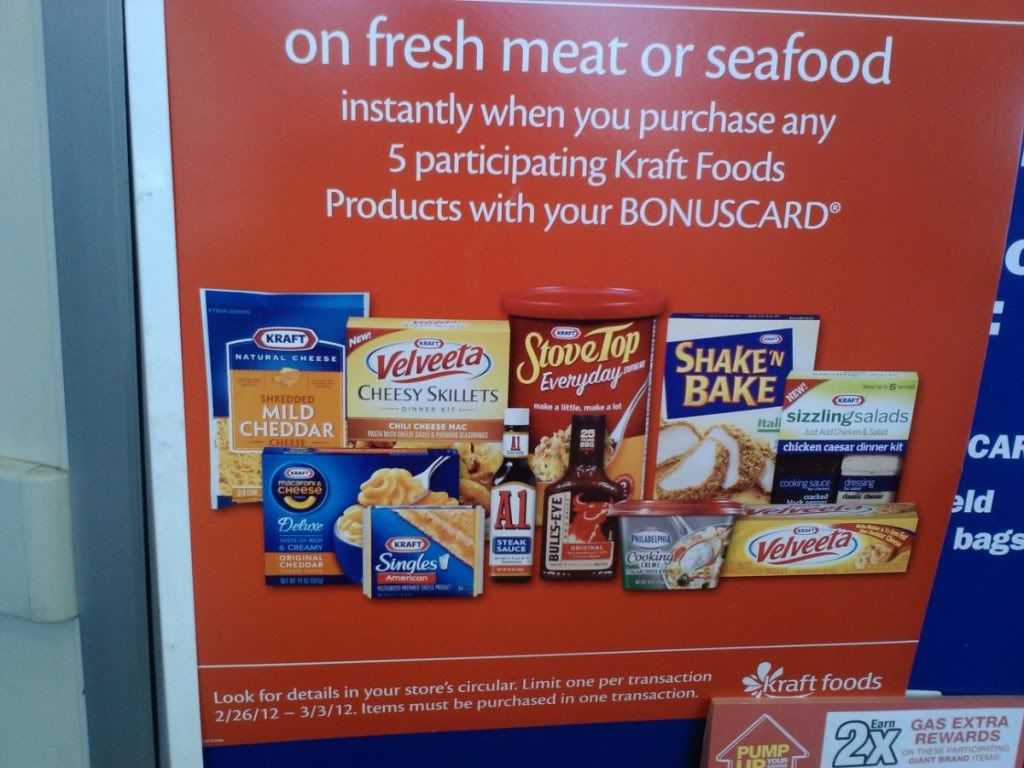 I love this deal for alot of reasons to get good deals on meat and fish !
Looking for B1G1 meats in the ad and combining it with Tearpads for discounts on meats has made this deal awesome for me in the past and I think it will be good again.
In the ad this week the items it lists are:
Kraft Individual Wrapped Cheese Singles (all Var) $2.50
The last time this ran - it included Velveeta Sliced wrapped cheeses priced at $1.99 - so look for those.
Kraft Velveeta Cheesy Skillets or Cassarole $2.50
IP:
$1.00 off when you buy any TWO (2) VELVEETA CHEESY SKILLETS Dinner Kit or VELVEETA CHEESY CASSEROLE Dinner Kit
$1/1 IP Link:
http://bricks.coupons.com/Start.asp?bt=vi&tqnm=wcqbcba21712802&o=110270&c=KR&p=O4DcomqW&utm_source=1314629&utm_medium=95770944&utm_campaign=7512816
A1 steak Sauce $2.99
Save $1 on Beef wyb A1 - Tearpad
A1 Merinade $1.99
Save $1 on Beef wyb A1 - Tearpad
(not in the ad - but I'm hoping it will include the A1 Dry Rubs or A1 Merinade Mixes - as I found tear pads for Free A Merinade mix wyb (1) a1 Dry Rub) - these were on a free standing cardboard display with the product on it so be on the look out.
Good Seasoning Italian Dressing $2.99
Tear pad: Save $1 on chicken Wyb 1- 4 pk
Kraft Philadelphia Cooking Creme $2.49
Breakstone Sour Cream - $1.99
NOW - to gether cpns ! Look around your stores in the Spinner racks where the ads are in the entrances and in the meat Dept for a Small Cpn booklet - Called Summer Grilling !
There is a Nice Seafood Store Cpn in the booklet to combine with this Deal -
Save $2 Off your purchase of $10 or more - offer applies to Shrimp, Salmon, Yellowfin Tuna, Swordfish and other varieties. There are lots of seafood items on sale in the ad and remember - you can go to the seafood counter and ask them to package the items so they come out to a certain $$ amount. I love to get bags of shrimp or maybe this week Salmon ($7.99/lb), Tuna ($8.99/lb), Flounder $6.99/lb
As for meats that are on sale that this deal should work well with -
Boneless Chicken Breasts are $1.99/lb - Use Good Seasoning Tearpad $1 Chicken
Top Round London Broil - B1G1 (no price listed) - means get (2) that are close in Price - one will become free at the register because of the sale - then buy a minimum of 5 of the participating Kraft Items and you will get $5 off the other steak ! This is a good place to use the A1 Cpns if you have them and Need A1 also.
Fresh Pork Tenderloin - B1G1 - same as the London Broil - pick up (2) - 1 is free at the register and then get $5 off the 1 you are paying for when you buy 5 of the Kraft items.
Common questions & answers about this deal - based upon how it has worked in the past -
Yes - you can do more than (1) $5 ISO per transaction - you just need to make sure you DO NOT buy any meat that is less than $5. I would recommend if you are doing the B1G1 Meats that you split the transactions up. In the past the $5 ISO has "attached" itself to the lowest priced meat item when there has been multiples in a transaction. So just make sure you watch you meat discounts to make sure the B1G1 and the $5 ISO comes off.
I'm hoping The Cracker Barrell cheese will be included also since there are still good cpns for it out there.